Sponsored Links
Who is Tasha Layton?
Tasha Layton is an American gospel singer, and songwriter popularly known for her 2019 hit single "Love Lifting Me". She was also a contestant on season 9 of American Idol and a former back-up vocalist for pop superstar Katy Perry.
This article talks about American gospel singer "Tasha Layton" and in it, we will be covering her biography, age, career, net worth, family background, and other facts about her. Before we proceed let's have a look at her profile summary below.
Profile Summary
Birth Name
Tasha Layton
Age
39 years old
Birth Date
October 27, 1982
Birth Place
Pauline, Carolina
Nationality
American
Profession
Singer & Songwriter
Parents
N/A
Marital status
Married
Husband
Keith Everette Smith
Children
Two
Height
5'7″
Weight
60 (132 lbs)
Net Worth
$2 million
Social links
Instagram
Facebook
Twitter
Tasha Layton Biography
Tasha Layton was born on October 27, 1982, in Pauline, South Carolina, United States of America. She holds an American nationality and her ethnicity is white. She was a Southern Baptist growing up but later changed to the Assemblies of God.
Layton struggled with her faith when her church separated while she was still a teenager. This affected her in college as she changed her focus from music to religion where she explored diverse religions. Eventually, Layton found her way back to Christianity after attending a small church that was an hour away from her college.
After she finished her college education, Layton relocated to California and enrolled in "The King's Seminary in Van Nuys", Los Angeles, where she earned a degree in Master of Divinity. Layton started working in the city as a session vocalist at that time after serving as a worship leader for four years.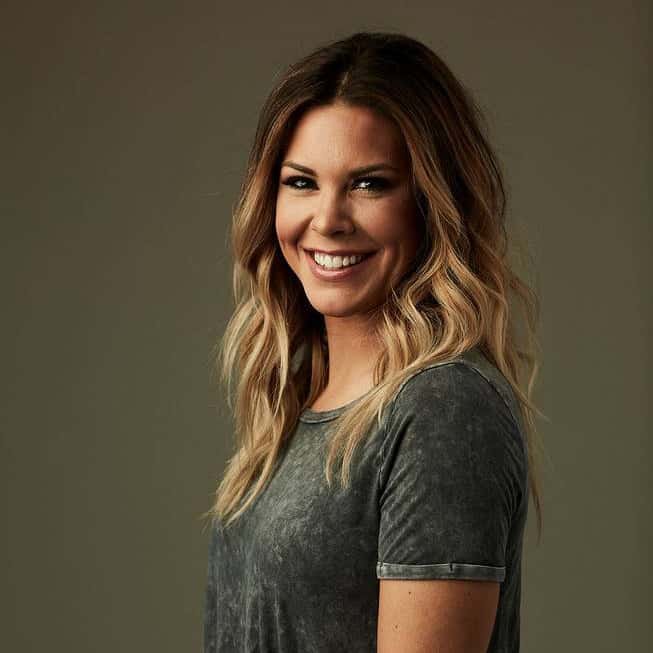 Tasha Layton's Parents & Family Background
Whilst carrying out our research we couldn't find any information on Layton's parents or siblings. Notwithstanding this post will be updated once this information has been made available.
Read Also: Naomi Raine Biography, Age, Net Worth, Career, Husband, kids
Career
Tasha Layton participated in the 9th edition of American Idol in 2010, making it as far as the third round of Hollywood week before being eliminated. Soon after, she applied for and was hired for a position as a back-up singer for Katy Perry. She then spent the next four years working on session recordings and tours.
Additionally, she contributed to songs that were used on Nickelodeon, Cirque du Soleil, and Disneyland. Layton later relocated to Nashville, Tennessee, where she started a solo music career, and in 2013 she started teaching at Trevecca Nazarene University.
Layton joined BEC Recordings, and on September 5, 2018, she released "I Belong to You," her debut single and music video. In October of that same year, she released the song "Love Lifting Me" which ranked at number 25 at the Christian AC Airplay and Billboard Christian Airplay.
She released her debut EP, titled "Love Running Wild", on June 28, 2019. She released "Into The Sea," her second radio single, in April 2020. Layton released her first studio album titled "How Far" on May 13, 2022.
Extended Plays (EPs)
This Is Christmas – October 29, 2021
Into The Sea – September 18, 2020
Love Running Wild – June 28, 2019
Albums
Read Also: Anne Wilson Biography, Age, Career, Net Worth, Family
Personal Life
Tasha Layton is happily married to Grammy and Dove Award-winning producer, songwriter, and multi-instrumentalist "Keith Everette Smith". They are blessed with two children.
Height and Weight Measurements
This American gospel singer and songwriter has a height measurement standing at 5 feet 7 inches tall and weighs approximately 60 kilograms (132 lbs).
Net Worth
Tasha Layton is well-known for her diversity in terms of singing and creative skills, and as a result, she has amassed a significant amount of wealth. It is reported that she has an estimated net worth value of $2 million dollars approximately.
Sponsored Links