Sponsored Links
Who is Steve Toussaint?
Steve Toussaint is a 57-year-old British actor of Barbadian descent well-known for portraying Seso in "Prince of Persia: The Sands of Time" 2010, Ethan James in "Pine Gap" 2018, and Lord Corlys Velaryon / The Sea Snake in "House of the Dragon" 2022.
This article talks about British actor "Steve Toussaint" and in it, we will be covering his biography, age, career, net worth, family background, and other facts about him. Before we proceed let's have a look at his profile summary below.
Profile Summary
| | |
| --- | --- |
| Birth Name | Steve Toussaint |
| Age | 57 years old |
| Birth Date | March 22, 1965 |
| Birth Place | London |
| Nationality | British |
| Profession | Actor |
| Parents | N/A |
| Marital status | N/A |
| Height | 6'3″ |
| Weight | 92kg |
| Net Worth | $1.5m |
| Social links | Instagram |
Steve Toussaint Biography
Steve Toussaint was born in London, United Kingdom on March 22, 1965. He holds British nationality and his ethnicity is Barbadian. Steve celebrates his birthday every year on March 22 and as of 2022, he is 57 years old.
Despite Steve's years in the entertainment industry, not much is known about his family, so we can't tell who his parents are or if he has any siblings. However, regarding his educational background, he studied Politics at the University of Sussex, England.
Acting Career
The 1990s
After his graduation from the University of Sussex, Steve got a job to work in a Merchant Bank in the UK but due to his passion for acting, he left this job and relocated to the U.S. to pursue his dreams of becoming an actor.
After months and years of hard work and sheer determination, Steve landed his first acting role as Steve Dixie in the television mini-series "The Memoirs of Sherlock Holmes" which was released in 1994.
Afterward, Steve began getting acting roles and in 1995 he made his film debut portraying the role of Shadwell Fan and Hunter Squad Leader in the movies "I.D." and "Judge Dredd" respectively. He ended that year as Camera Operator in a short documentary titled "You'll Soon Get the Hang of It: The Technique of One to One Training".
In 1999, he appeared in a total of 4 projects three of which were television shows. He portrayed Joe in the British television crime drama series "Jack of Heart" written by Sian Orrells and directed by Timothy Lay.
The 2000s
In the year 2000, Steve got his first film role as Black in the British/American crime film "Circus" written by David Logan and directed by Rob Walker. He did not feature in any television project not until 2002 when he got to play Charlie Bellows in the series "Walking of the Dead".
Read Also: Emma D'Arcy Biography, Age, Net Worth, Height
Also, starting from 2002 to 2010 he portrayed D.I. Mike Trent / Tom Dumasai / DI Mike Trent in the British medical television series "Doctors". As the years went by, Steve featured in lots of projects including "Prince of Persia: The Sands of Time", "Silent Witness", "Inspector Lewis", "Pine Gap" and "Before We Die".
Steve also happened to voice George Lambert in the 2021 video game "Jurassic World Evolution 2".
In 2022, Steve got a major role in the "Game of Thrones" prequel television series "House of the Dragon" in which he portrayed Lord Corlys Velaryon: Known as the "Sea Snake", the head of House Velaryon and the most famous seafarer in Westerosi history.
According to reports, it is said Steve got a lot of racist comments because of his role as Lord Corlys Velaryon and this is because the original character was portrayed as white-skinned, with pale hair and purple eyes.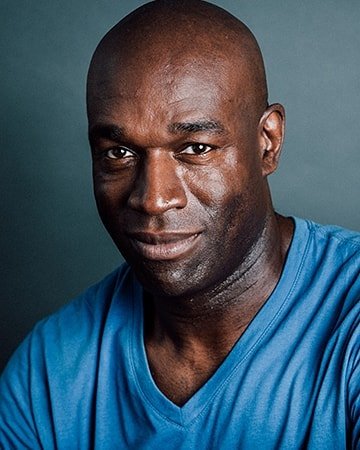 Personal Life
When it comes to discussing his private life, especially his romantic life, Steve Toussaint has exercised extreme caution. Because of this, we are unable to determine his current relationship status.
Height and Weight Measurements
This British actor has a height measurement standing at 6 feet 3 inches tall and weighs about 95 kilograms.
Steve Toussaint Net Worth
Steve Toussaint is well-known for his diversity in terms of acting and creative skills, and as a result, he has amassed a significant amount of wealth. It is reported that he has an estimated net worth of $1.5 million approximately.
Sponsored Links