Who is Rapper Yeat?
Yeat born (February 26, 2000) is a 22-year-old American rapper and songwriter who rose to fame in 2021 when he released his album "4L". Also he is popularly known for his single "Gët Busy" which was released that same year.
This article contains information about Year such as his biography, age, birth name, career, net worth and other facts about him. Before we proceed let's have a look at his profile summary below.
Profile Summary
Birth Name
Noah Oliver Smith
Age
22 years old (2022)
Birth Date
February 26, 2000
Birth Place
Irvine, CA
Nationality
American
Profession
Rapper
Father
Mexican
Mother
Romanian
Siblings
N/A
Height
5 feet 4 inches tall
Weight
40-60kg
Net Worth
$2.5 million approx
Social links
Instagram
Twitter
Rapper Yeat Biography
Yeat was born Noah Oliver Smith to a Mexican father and Romanian mother on February 26, 2000 in Irvine, California, United States of America. As of the time this post was updated Yeat is 22 years old.
He is a citizen by birth of the United States of America and checking from his family background, he is of mixed ethnicity.
During his early teen years he relocated from Irvine to Portland, Oregon where he attended Lakeridge High School. Right now he currently resides in Los Angeles, California.
Family Background
After a series of online research, we couldn't find any information about his parents such as their names etc.
For now all we know is Yeat's father is from Mexico and his mother is from Romania. This post will be updated once more information has been revealed.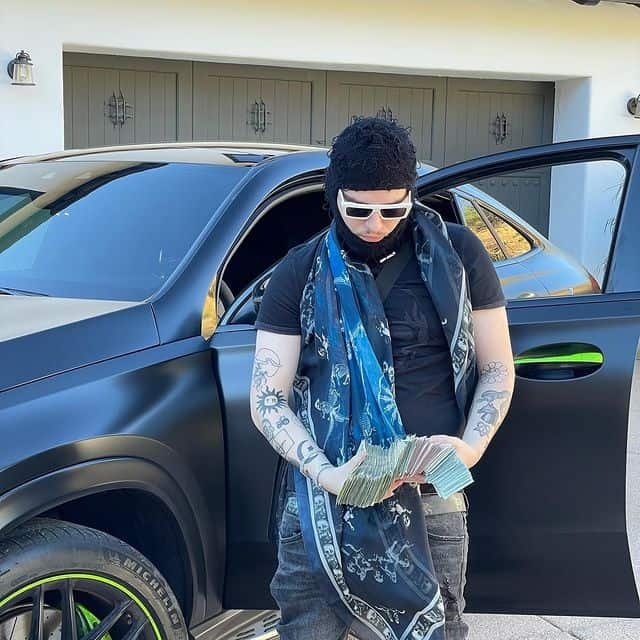 Educational Background
Yeat is a graduate of Lakeridge High School which is situated at Lake Oswego, Oregon.
Music Career
Yeat began his career as a rapper and songwriter in 2015. He started releasing songs under the stage name "Lil Yeat", but these tracks are no more available.
With his new stage name "Yeat", he made his first appearance on the YouTube channel Elevator on June 30, 2018, with his song "Br!nk."
According to Yeat, he came up with the name Yeat after trying to think of a single word that people would recognize.
On September 20, 2018, he released his first mixtape, Deep Blue Strips. Also on February 21, 2019, he debuted the music video for his song "Stay Up" on Elevator.
In mid-2021, Yeat became a viral sensation on sites such as TikTok. He became known after the release of his 4L mixtape on June 11, 2021. "Sorry Bout That" and "Money Twrk" were among the 4L project's.
In August, a clip of his song "Get Busy" went viral online, attracting significant media and fan interest.
It Might Interest You To Know About Snot Rapper Biography.
The line "this song already was turnedt yet here's a bell" was noted by media sources as a highlight of the song, which was soon followed by the ringing of church bells. Drake and Lil Yachty, have also made references to the line.
Through a one-album distribution contract with Interscope Records, Yeat released his album "Up 2 Më" on September 10, 2021. Music critics praised the album and it debuted on the Billboard 200 on January 22, 2022, and peaked at number 183.
In January, he revealed that his second album, 2 Alivë, will be released in mid-February. Also, his song "U Could Tëll" was featured in an episode of the show Euphoria, which premiered that same February.
In a collaborative venture with Geffen Records, Yeat signed to Zack Bia's Field Trip Records. On February 11, 2022, he released the track "Still Countin," which was accompanied by a Cole Bennett-directed music video.
He released his major label debut album "2 Alivë" on February 18, 2022, through Field Trip, Twizzy Rich, and Geffen Records.
Personal Life
For now this young American rapper hasn't revealed any information about his relationship status to the public. Much about his personal affairs are not yet available to the public.
Height and Weight Measurements
Yeat's actual height and weight measurements hasn't been revealed yet. However judging from his appearance, he stands at 5 feet 5 inches tall and weighs between 40-60kg.
Yeat Rapper Net Worth
Yeat is a talented rapper who successfully made his way into the American music industry. He has made lots of money over the years and lives a comfortable lifestyle.
However his net worth hasn't been estimated but it is assumed to be $2.5 million dollars approximately.